I have spent the last four years with Airship where we have designed, built, and maintained custom web and mobile software applications for a variety of organizations. During that time we have worked with clients in many different industries and areas of focus. Some of these include...
Professional services / on-demand services
Retail
Construction
Government
Non-profit
Healthcare
Insurance
Real estate
Outdoor recreation
Churches
Software (SaaS)
News / information / advertising
Manufacturing
Education
Fitness
Management
Distribution / logistics
And more!
During this time I have started to see some interesting patterns emerge: Medium-to-large businesses (typically over 150 employees) often reach a critical point when they could benefit from engaging with a software development partner or contractor. These critical points are make-or-break for some companies, meaning the difference between growth and meeting goals or failing short of expectations due to capacity.
Here are 5 signs we typically see from medium-to-large organizations that reach the critical point where they need help from a software development agency.

#1. You searched and searched and you can't find an "off-the-shelf" software product to meet your needs
You want a more efficient and streamlined way to interact with your operational team or your customers. A great first place to look is to the software product market place. Every day entrepreneurs are creating new and innovative software solutions to serve even some of the most obscure niches. A swift google search for "[your industry] software solutions" may yield some very helpful results.
These software products can often be implemented quickly and have relatively low upfront costs to give them a try. The software product companies will be eager to provide you a demonstration of their product and walk you through how it can be used. If you find a software product that fits your needs, that is wonderful! You are all set and may not need to read the remainder of this blog. If you haven't found what you need then please continue to read. I am going to do my best to help you.

By now you may have tried several off-the-shelf software products and none of them seem to be a good fit for your organization. You could be spending a lot of time and money on workarounds or incomplete software solutions that are cobbled together. When your software solution is customer facing, you may find that it does not meet your branding standards or the level of excellence you require for customer interactions.

In other cases, you may find that you have a software solution that is quite comprehensive and is capable of doing everything you need it to do. The problem is that you may find that the solution is overwhelming for your users. There could be too many configuration options or your users may get continually frustrated that they are wading through a user interface that is hard to navigate and cumbersome to use.
I have had past clients often tell me that their software "just does too much." In those cases, you could be spending 10's of thousands, 100's of thousands, or even millions of dollars on software when you are using only a small portion of its capabilities.
In those cases it is certainly possible that you could create a custom solution that could give you exactly what you need and nothing you don't. Custom software solutions often have a fairly large upfront commitment to get them built but we have seen several times where our clients ends up saving money in the first few years while at the same time getting just what they need and nothing more.

#2. Your internal software development team is "slow" and just can't seem to get to your project.
It's 2020: All types of companies and non-profit organizations are utilizing technology to optimize their business or better fulfill their mission. Most larger organizations have found that technology and software are such an integral and critical portion of what they do that they need full time team members to focus on just that.
You may have a CIO, CTO, VP of Technology, or Director of Technology. You may even have a team of software developers that work to build the software that you need and work to keep it well maintained. Even in those cases, we have often found that there are divisions in your organization that are underserved. You software development roadmap is long and there are strategic projects on there that you just can't seem to get to.

The technology team that you have may consistently get pulled from long term strategic projects in order to take care of immediate and urgent needs to facilitate sales or solve a legitimate operational issue. In those cases, an outsourced development team could be a viable option. The outsourced team could remain focused on the assigned project or initiative as your internal team is pulled around for the most important urgent issue of the week.

You may have recognized this by now, but it is probably not that you internal team is slow it's that it is almost impossible for them to predict the next fire that pops us. Each time an urgent need is elevated your critical projects gets pushed further and further down the development roadmap.

#3. Your internal team's skillset is very specific to your business but now you have a custom need for a new technology.
In could be the case that your team has a specific skillset that relates to the technologies and frameworks that you have been using in the past. They are very skilled and effective these technologies but maybe a little slower when a new technology is needed for a planned initiative.
Software development contractors often work with a variety of clients and have skills represented on their team for a broad set of technologies and frameworks. That skill and experience could jump start and accelerate an effort as the outsourced company could work alongside your internal team to get the work done more quickly and with higher quality.

Maybe you need a mobile app but your team has never done any mobile development before. Maybe you want to take advantage of modern technologies like React Native or GO but you just don't have the experience. In those cases, seek out a software development contractor/partner who has the experience to execute the work efficiently and help get your team up to speed in the process if they need to maintain it long term.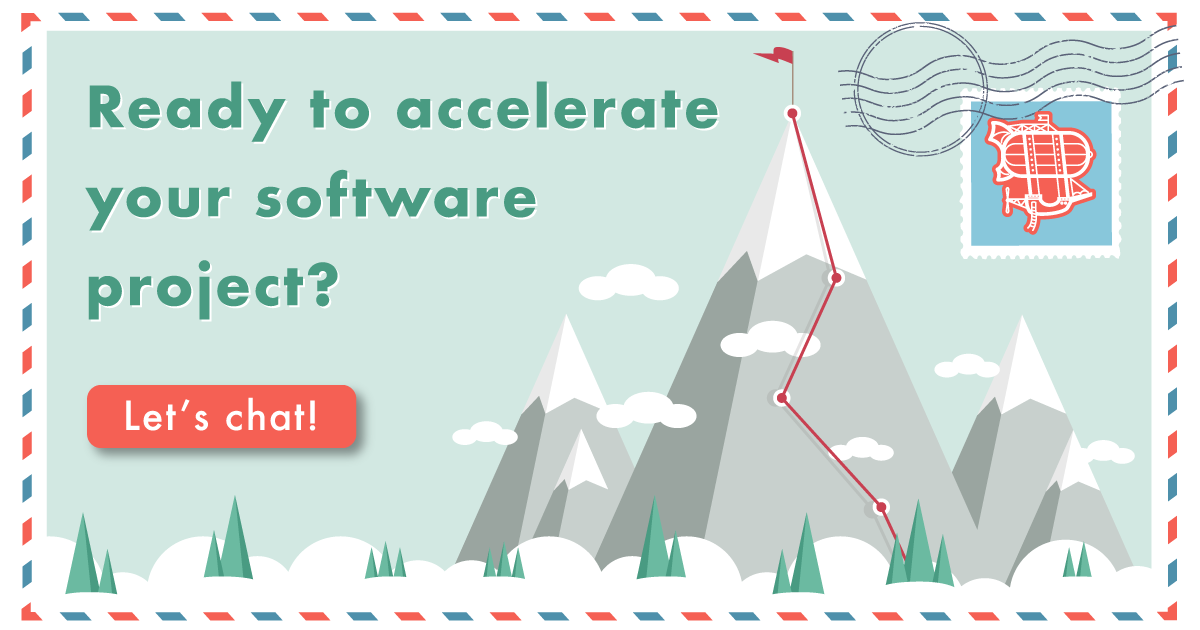 #4. You just don't have enough capacity to get all the work done and you can't seem to hire all the software development talent you feel like you need.
You know that you need a better digital experience for you customers or a more efficient way to run your operations. You are confident that a new software solution can help you achieve those intended outcomes. The problem is that you just can't seem to hire enough people or get access to enough talent to execute your plans. This is especially true for business or organizations where software and technology is not the core of your business.
There is a global shortage for software development talent. The demand continues to increase and the supply is having a hard time catching up. Coding bootcamps and online resources are cropping up everywhere in order to try to make some headway against filling that need but we are just not there quite there yet. You may find that that you add a talented group of software developers to your team but then realize you don't have the skills or experience to lead them or help them grow in their craft. You discover that as your team gains experience they tend to seek a new environment where their new skills will be stretched and they can earn more money.
If your core company function is not technology or software these exiting employees may have some level of justification in seeking out new opportunities where they can learn from more experienced people and stay up to date on modern technologies.

The high level of demand for software development talent can also lead executives in non-technical companies to overpay and set their expectations too high for junior level talent. As an executive leader you may wonder why you have paid so much for these new team members to execute on your digital objectives but they still don't seem to be getting things done. It may be that they just don't know what they don't know and could use the support of others with a more diverse set of experiences to glean from.

In these cases a software development agency/contractor could be a good fit. Their experienced and professional teams can help by:

Supporting and teaching your team
Becoming your team to execute your objectives
Designing and scoping out the work so that you can have confidence in how much you will pay and how long it will take to achieve your objectives.
#5. You need a branded mobile app in the app stores that is all yours
Your are learning that the customers/clients/members you intend to serve are seeking a mobile first digital experience by which to engage with you. You also understand that while many websites and web applications are becoming more mobile responsive (this just means that they look good and function well thorough the browser on your mobile phone), you still have a large groups of prospective users who will look for you in the Apple or Google Play App stores. You want to be in the places that people are looking to find you.

I attended a tech conference in 2019 where Alexis Ohanian (Founder of Reddit) detailed the first time he met his now wife, Serena Williams (Yes THAT Serena Williams, the famous American Tennis Player). In that story Alexis described how he was trying to explain to Serena that he was speaking at a tech conference near the hotel they were staying in as he was a founder of a popular content aggregation tech company. With some skepticism Serena promptly pulled out her iPhone and searched the app store for for "Reddit". She found no results and quickly flipped her phone around to show Alexis that just maybe he was not the tech founder he claimed to be. I and the rest of the crowd at the conference had a good laugh as Alexis recounted how he called his team later that day and explained how important it was that they get the Reddit mobile app launched right away. In this case Serena was just attempting to validate Alexis' claims.
In your case you may understand that the people you intend to serve expect to be able to find you on the app store but you are just not there.

If your core business is not software or technology you can often find that there are some white-label options for mobile apps that can get in you the apps store quickly and with a fairly low cost. These white-labeled mobile apps can start help you validate your assumptions and serve your customers/clients right way. Oftentimes these can be good long term options for you if the off-the-shelf system meets you requirements.

You may find that the white-label mobile app was helpful but now that you have a growing user base you need to have complete control over the development roadmap of your mobile application. Your users have demands that are specific to your business use case and the white-labeled product is not quite all that you need. The software product company you are working with is likely doing their best to help you. However, they are not always able to prioritize your requests over the hundreds or thousands of other customers they are serving.
If you determine that you need to control the direction of the development of your mobile app, then a custom solution may be the right fit for you. You will likely see that once you have validated that the mobile app can provide a significant return on investment it may be time to consider a custom solution specifically crafted for your company or organization. If you build a custom app yourself or work with a trusted partner to do so you will be able to maintain complete control over the features and ensure that it continues to grow to meet the demands of the people you are intending to serve for years to come.

Conclusion
This is not intended to be a comprehensive list but rather a brief summary of some of the more common reasons that clients have contacted Airship for help in the past. If you want to learn more about what custom software development costs, please check out our pricing page. If you want to learn more about our process and the various services we offer please check out our services page.
If you want to learn more about me or ask some questions about this blog post, please complete the contact us form here to start a conversation. I would love to connect and see if I can add value to you in some way.