As we celebrate our 8th anniversary of designing and building custom software applications, we'd like to say thank you for letting us develop your ideas and innovations over the past 8 years!
While we are grateful that 2020 was a successful year at Airship, our hearts are heavy for those who lost so much. Thank you to our resilient crew and gracious clients for your innovation and support. You were our lighthouse during a stormy year.
We look forward to brighter days ahead in 2021 and beyond. Our story wouldn't be complete without you, so please enjoy this quick recap of the past year. (View as a slideshow? Click here!)
We're taking over North America, y'all! Two clients located in Arizona and Ontario, Canada are now added to our coverage map.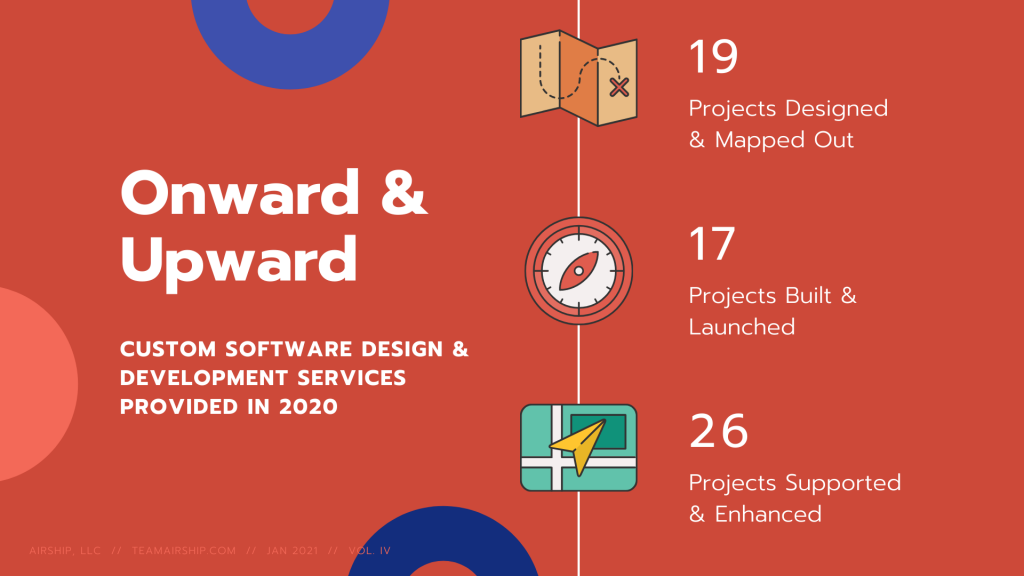 It was a very interesting year for designing, developing, and maintaining custom software applications at Airship. We saw many clients, new and returning, moving to remote work and exploring new ways to pivot in 2020 for their customers. Entrepreneurs, too, were looking for MVP solutions and prototypes. Overall, it was a great year for innovative technologies.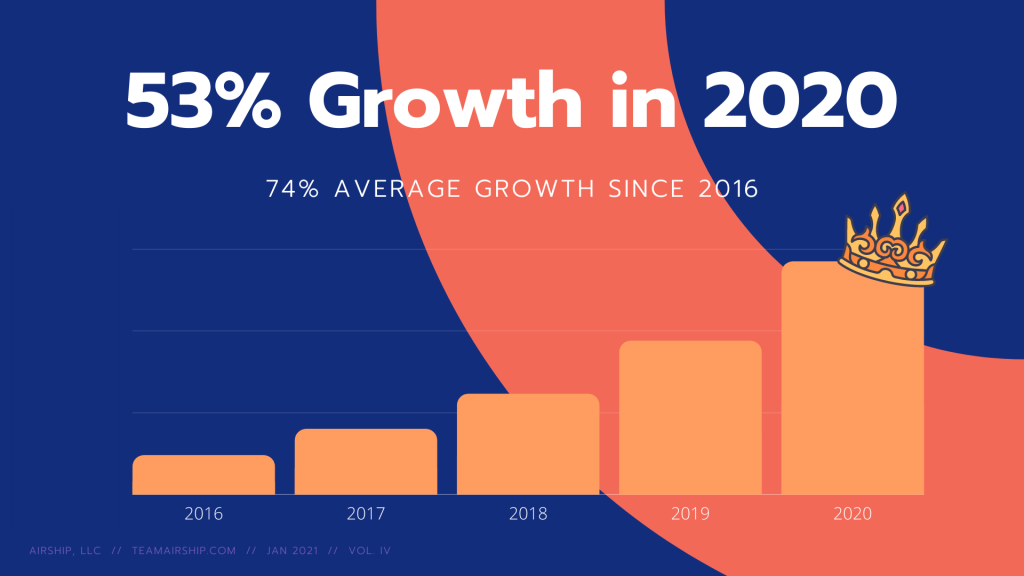 So why does growth matter at Airship and what does that mean for our clients? Growth means we can offer more comprehensive services for those in need of custom software development, from enterprise level clients to the startups. It means we're able to grow our tech stack capabilities, increase our bandwidth, and add more skillsets and experiences by building a diverse crew. And growth means we're able to offer better, targeted services in 2021 thanks to lessons learned in 2020.
Our remote-first company has grown by adding 11 new crew members across 13 states since 2020, making our total number of employees 34 as we enter 2021.
We're also hiring! Learn more about our company culture here and view all our job listings and apply on our Lever job page.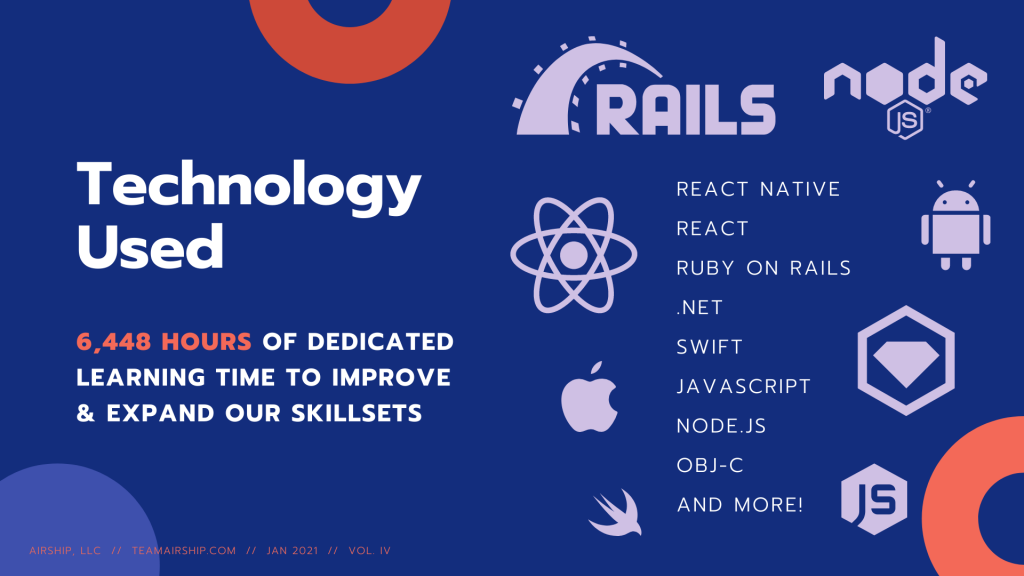 Technology is at the heart of our services and we prioritize growing our expertise at every level of Airship. We clocked around 6,448 hours of dedicated learning time to improve and expand our skillsets. In fact, we have a 10% learning time policy for all employees, meaning each week we're focusing 4 hours of intentional learning time so that we can become better experts for our clients, coworkers, and for our own personal development.
Some of the programming languages we've been focusing on include:
React Native
React
Ruby on Rails
.NET
Swift
Javascript
Node.JS
Obj-C
and more (don't even get me started on all the awesome APIs and integrations!)
If you want to know if our software builders can help your project or if you don't see a language listed that you need, our opportunity explorers can provide you with more specifics - just complete our contact us form to get started.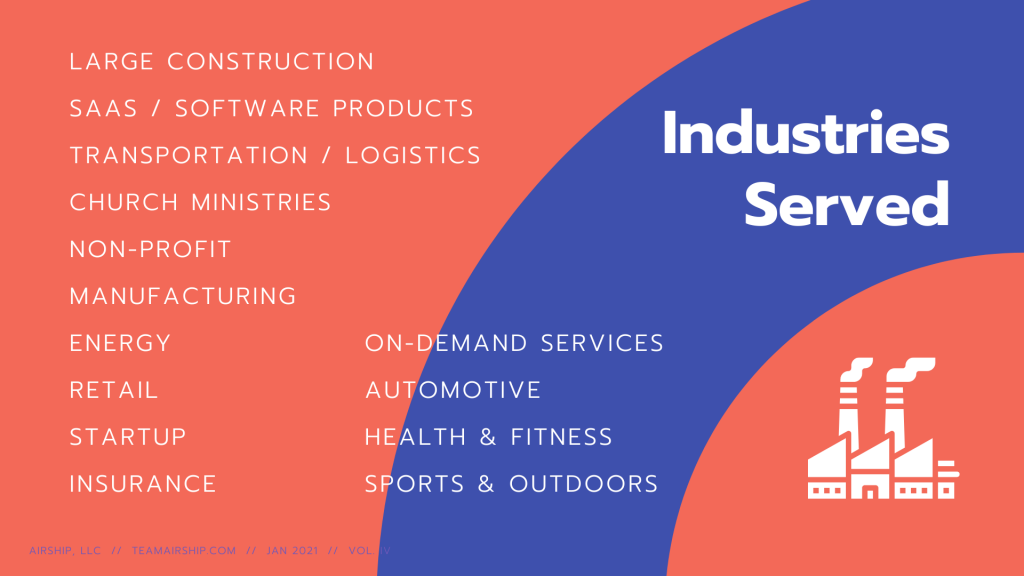 One of the best perks of working as a software development agency is the opportunity to work within a variety of industries.
Large Construction
SaaS / Software Products
Transportation / Logistics
Church Ministries
Non-profit
Manufacturing
Energy
Retail
Insurance
On-demand Services
Automotive
Health and Fitness
Sports and Outdoors
Startup Varieties and Niches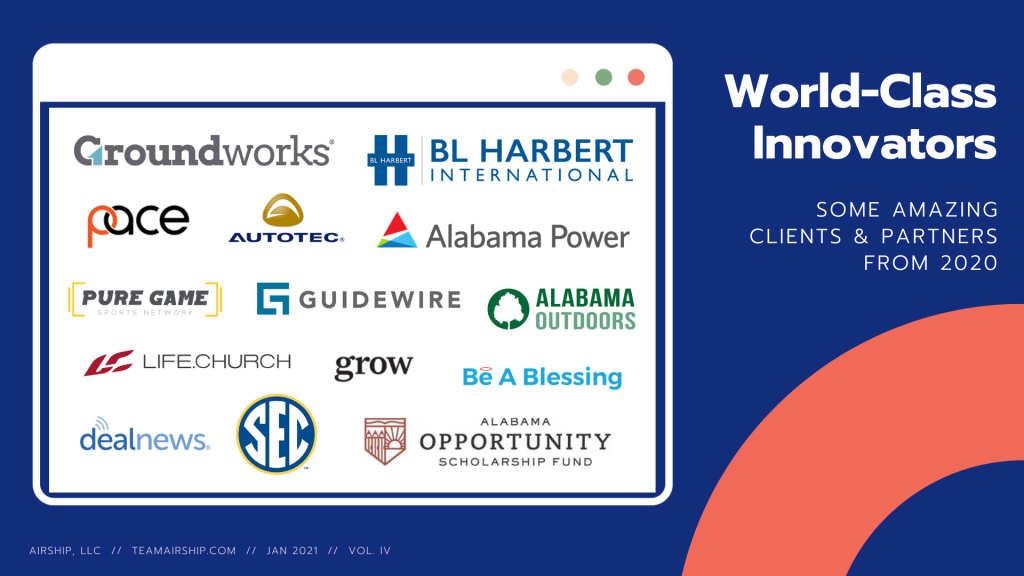 Airship had the honor of helping so many innovators across a variety of industries and organization sizes. The one thing they all have in common? They value creating beautiful user experiences and are excited about the potential of technology to create solutions.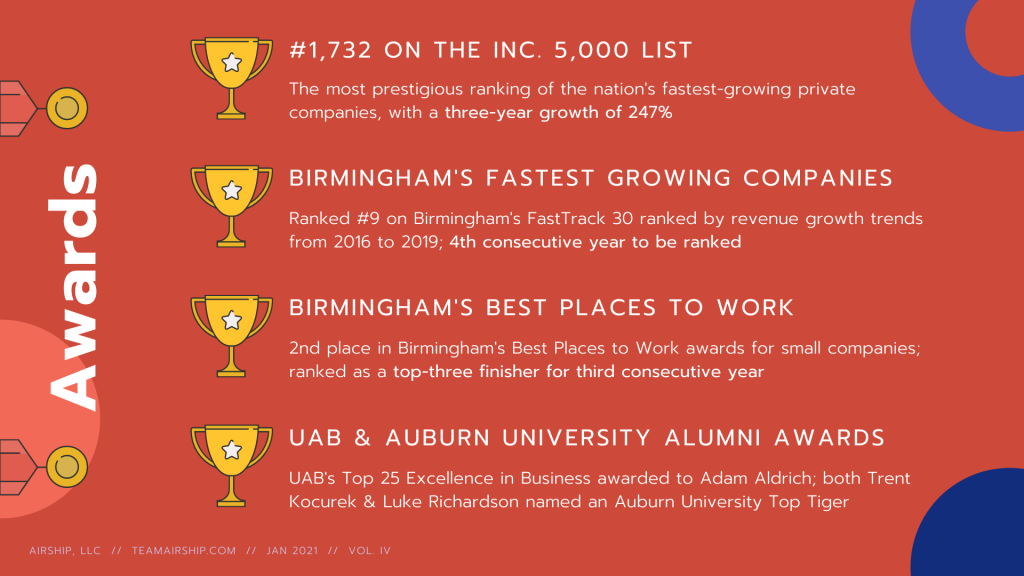 While we were bummed to not attend any in-person award events in 2020, we are excited about one new achievement: The Inc. 5000 List!
Here's a list of the awards we were honored to receive in 2020:
#1,732 on the INC. 5,000 LIST: The most prestigious ranking of the nation's fastest-growing private companies, with a three-year growth of 247%
Birmingham's Fastest Growing Companies: Ranked #9 on Birmingham's FastTrack 30 ranked by revenue growth trends from 2016 to 2019; It's our 4th consecutive year to be ranked!
Birmingham's Best Places to Work: 2nd place in Birmingham's Best Places to Work awards for small companies; ranked as a top-three finisher for third consecutive year
UAB Top 25 Excellence in Business Class of 2020: Awarded to Adam Aldrich, President and Co-founder of Airship; the UAB National Alumni Society's program identifies, recognizes and celebrates the success of top UAB alumni-owned companies based on revenue growth
Auburn University's Top Tiger Awards: Awards presented to Airship's Trent Kocurek, CEO and Co-founder, and Luke Richardson, VP and Lead Opportunity Explorer; awards and rankings for 2020 were postponed until 2021, but this is our 3rd time to be on the list and ranked 2nd place in 2019 and 1st place in 2018 *chef's kiss*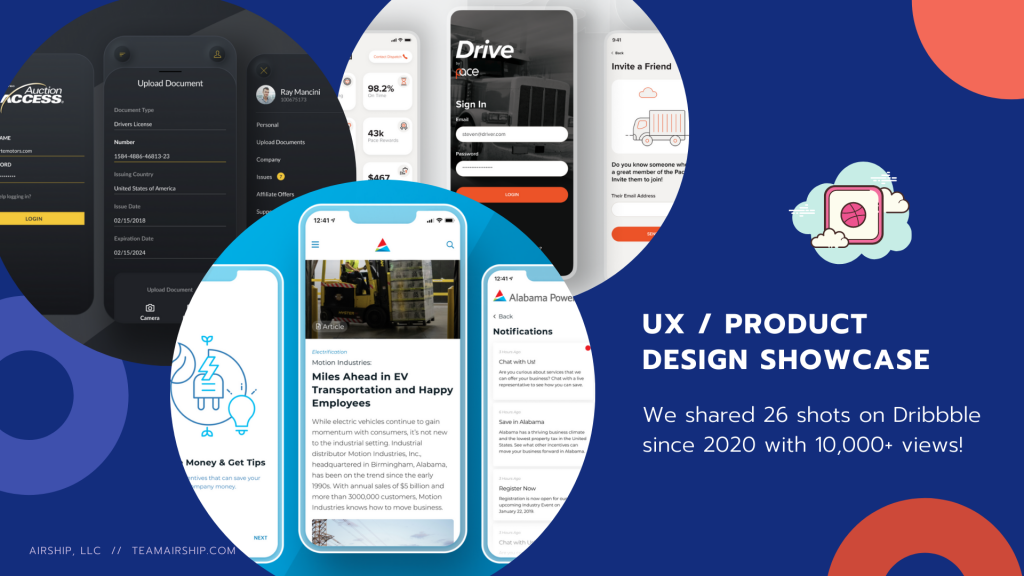 One of the coolest things we've done this year is work on our Dribbble portfolio. This is all thanks to our amazing product designer and UX wizard, Tyler. Thank you, Tyler!!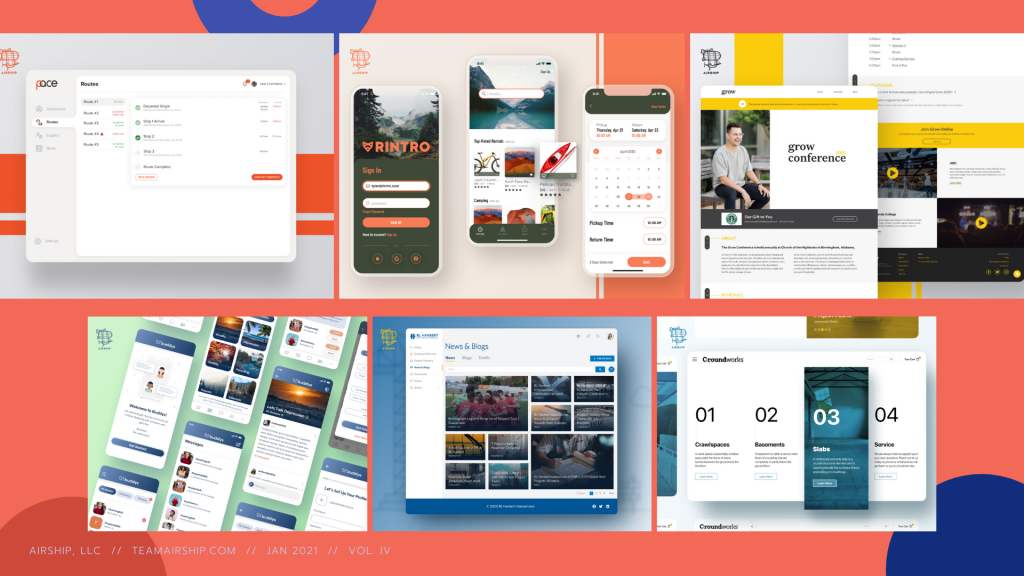 We've shared 26 shots in the past year with more than 10,000+ views!! We look forward to sharing even more custom mobile application and web application designs throughout 2021.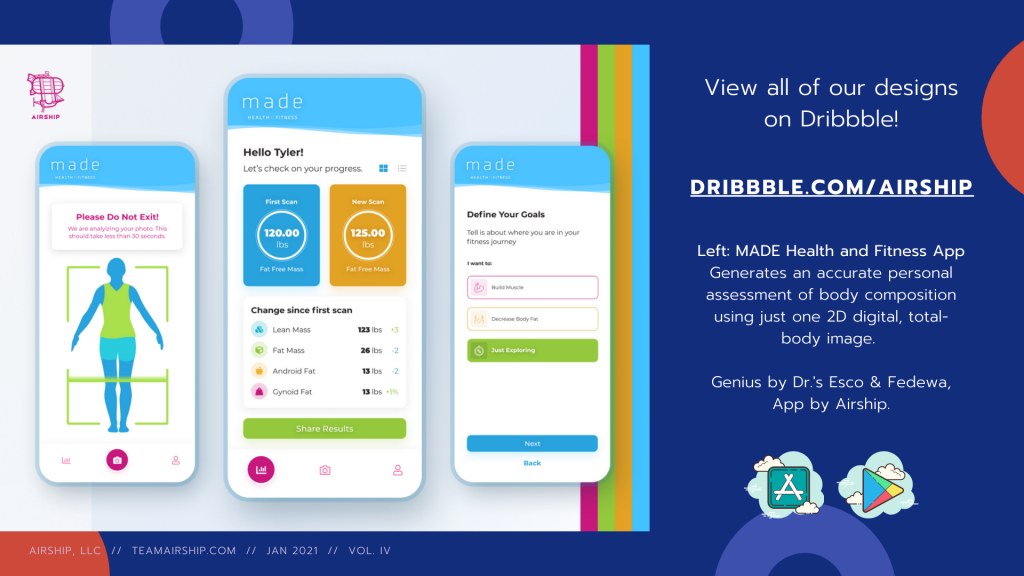 We wanted to feature one of the coolest projects we've been fortunate to work on - the MADE Health and Fitness app. The MADE app generates an accurate personal assessment of body composition using just one 2D digital, total-body image.
Our clients, Dr. Esco and Dr. Fedewa from The University of Alabama, are the genius behind the app's science and algorithms. It's an honor to help them with the app design and construction.
Read more about MADE, some of the data they've collected so far, and the app's impact here! You can also download the app now on the App Store and Google Play.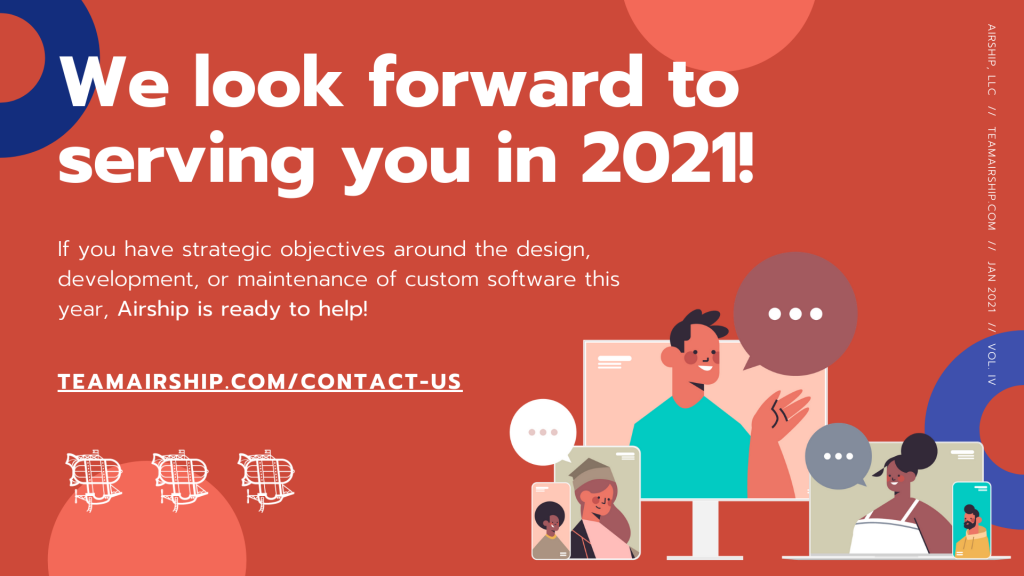 Thank you again for helping us have another wonderful year and an unbelievable decade. We look forward to serving you in 2021!
If you're interested in discussing how we can help your crew get things done in 2021, contact us and you'll receive a link to book some time on our calendars.
All Together Now! Slideshow Version
If you want to see our previous Chronicles (and we're flattered if you do!), check out our 2019 Chronicle here, our 2018 Chronicle here, and our inaugural 2017 Chronicle here.