We love growing our crew and wanted to find a new way to stay in touch with our past applicants, potential applicants, and overall Friends of Airship. That's why we're excited to launch this quarterly series from Airship's Crew Ops Lead, Kathleen Robinson.

Introducing... the Airship Crew Log for hiring/HR updates!

Each quarter, the Airship Crew Log will share new job postings, HR updates, benefits we offer, and an inside look of what we're working on around here! The hope is that you will be more actively notified about opportunities for you to come aboard and create transformational change with the rest of the Airship crew.

To be notified when our next Airship Crew Log drops this summer, subscribe to our recruiting email list!

[hubspot type=form portal=1851454 id=e17dc12c-e95a-4eb1-a78f-28fe24f26bbe]
Airship in Action: Crew Posts
While waiting for your perfect opportunity to join our crew, we'd love to keep you updated on what we're passionate about and what our crew is working on!
Our Airship blog is one of the best places to hear directly from our crew about their current interests in the tech world! We love sharing what we're currently learning and building for our clients.
And you can't miss our Airship Chronicle celebrating our 8th birthday and all of the incredible work our crew and clients did in the past year!
Coffee with a Crew Member ☕
We love coffee around here! We actually took a moment to see on average how many cups of coffee our crew drinks on a normal work day...
As of March 2021, our Crew Coffee Consumption hovers around 65 of our Airship mugs per day!
One of our favorite ways to keep up to date with each other on the crew is with our weekly Donuts! These are randomly selected pairings with a fellow crew member. We usually set aside 30-minutes each week to have a "Donut" and coffee and get to know each other as more than a rubber duck! ????
So, we thought we'd let you get to know one of our crew members a little more here too!
Meet Lexi Kwak!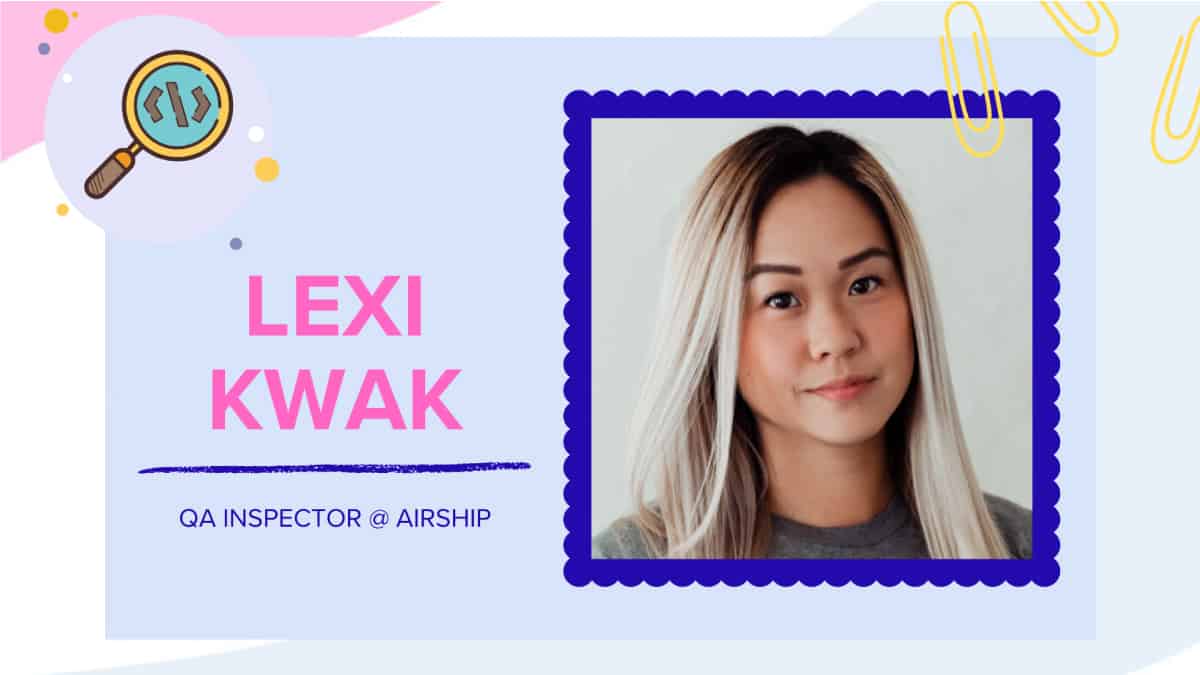 As a QA Inspector, Lexi ensures that we deliver products that meet the highest possible standard of quality. "I look for unique pathways to find and creatively solve problems, execute test plans, find system defects, ensure our products work well with various devices, and help Builders improve code quality by identifying errors and blind spots."
Lexi graduated from Auburn University with a Bachelor of Art. After five years in the marketing, she decided to pursue a new adventure in tech. She graduated Innovate Birmingham's Software Development Bootcamp which eventually led to her coming aboard at Airship!
What projects are you currently working on?
"I am currently working on several project which is one thing I love about Airship. It gives me a variety of applications to work with and with that comes with different challenges and learning curves. One project I am currently working on is for a distribution client where we built a web app to provide their sales reps a simple and effective way to create and order signage for stores and locations. Another project I have been working on is for a real estate startup which creates a residential marketplace for homes that are not technically on the market. Along with my QA Inspector duties, I've had opportunities to work on an Apple TV Project where I get to assist in developing new features for some of their applications."
What do you like about working at Airship?
"I love working at Airship for many reasons. This includes the culture, the people I work with daily, the opportunity to grow as a professional and person, and most of all, the ability to assist in the development of applications that make an impact in people's lives. I am so grateful each day to be a part of this crew!"
To learn more about Lexi and our other crew members, head over to our Meet the Crew page.
To Our Future Crew...
One of the biggest highlights of my job as the Crew Ops Lead here at Airship is getting to know each candidate. In fact, I get to meet new people every day. (That's very rare in our current pandemic predicament, isn't it?) I get to meet people, just like you, who are working with integrity and following through with creative problem solving. They are choosing curiosity in the confusion and they are doing all of it with a get-it-done attitude.

Each of you (and each of our current crew members) have a different journey of how you got to where you are and how you will get to where you're going. We have different backgrounds, different experiences. Different educations and different ways of thinking. And it's that last one, the "diversity of thought", that makes this crew special.

We thrive on our diversity of thought! It's what makes our crew collaborate so well, what keeps our clients coming back for more and what allows our products to create true transformational change. We can't wait for you to be a part of it!

Until then, my biggest tip? Continue to pursue excellence in everything you do. In your work, in your home, in your hobbies. Each day find one thing to get a little better at. And we'll do the same!

Don't forget to sign up for our email newsletter to be notified about our next Airship Crew Log this summer!

[hubspot type=form portal=1851454 id=e17dc12c-e95a-4eb1-a78f-28fe24f26bbe]