We're back with our second installment of the Airship Crew Log! We kicked off this quarterly series earlier this year as a way to stay in touch with past applicants, potential applicants and overall Friends of Airship. We're so excited you're here and ready to hear some hiring and HR updates from our Crew Ops Lead Kathleen!
As a Reminder...

Each quarter, this Airship Crew Log will share new job postings, HR updates, benefits we offer, and an inside look of what we're working on around here! The hope is that you will be more actively notified about opportunities for you to come aboard and create transformational change with the rest of the Airship crew.
The Search is On!
We currently have two open positions on our crew! We are specifically looking for two mid-level developers to join our Builder team. Check out the postings below and apply on Lever!

To be notified when our next Airship Crew Log drops this summer, subscribe to our recruiting email list!

[hubspot type=form portal=1851454 id=e17dc12c-e95a-4eb1-a78f-28fe24f26bbe]
Airship in Action: Crew Posts
Our Airship blog is one of the best places to hear directly from our crew about their current interests in the tech world! We love sharing what we're currently learning and building for our clients.
Check out two of our most recent blog posts from crew members Will Richardson and Hunt Burdick below:
And you can't miss our Airship Chronicle celebrating our 8th birthday and all of the incredible work our crew and clients did in the past year!
Coffee with a Crew Member ☕
We love coffee around here! We actually took a moment to see on average how many cups of coffee our crew drinks on a normal work day…
At last count, our Crew Coffee Consumption hovers around 65 of our Airship mugs per day!
We love coffee and love having a cup together! So, we thought we'd let you get to know one of our crew members over a virtual cup of coffee!
Meet Erin Isbell!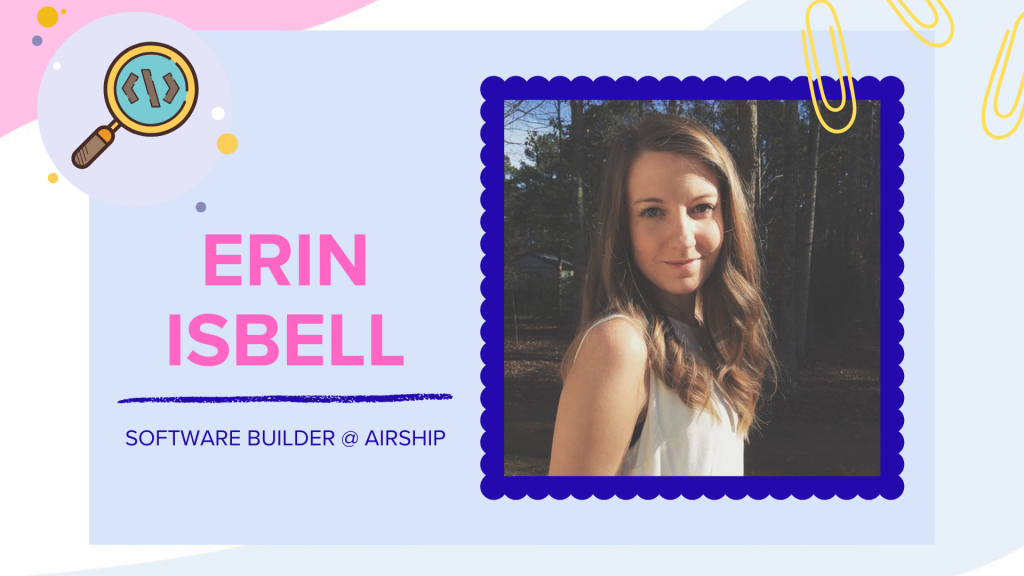 Erin is a Builder at Airship! She lives in Nashville, Tennessee, making her one of our 19 crew members who work at Airship but live in states all over the nation. Tennessee is just one of the 14 states our crew represents!
What do you like about working at Airship?
"I could easily write a small book of everything I love about working here. I love how flexible Airship is (if you need to work remotely or take time off for a doctors's appointment / personal life issue like getting your car fixed they're always accommodating and it's never a big deal), and how supportive they are not only professionally (they care about your growth professionally and really encourage learning which is HUGE to me) but personally as well (you're actually treated as a person not a number or warm body in a seat).
"I also really appreciate how humble and transparent the leadership team is; despite running a company with busy schedules they always make themselves available and are always looking to be the best versions of themselves. I've been asked what the catch is working here and simply put, there is none. When you write down all of the things you're looking for in a company that seems impossible to exist, that's Airship."
To learn more about Erin and our other crew members, head over to our Meet the Crew page.
Until next time...
Don't forget to sign up for our email newsletter to be notified about our next Airship Crew Log this fall!

[hubspot type=form portal=1851454 id=e17dc12c-e95a-4eb1-a78f-28fe24f26bbe]