Technology developed through research at The University of Alabama is available in major mobile app stores, ready to revolutionize how people track their health and fitness progress.
Development of the app from the lab to the market was supported by the Office for Research and Economic Development through the new Intellectual Property Gap Fund that facilitates intellectual property development and licensing. Also, the UA Office for Innovation and Commercialization and the Alabama Entrepreneurial Institute assisted the inventors of the patent-pending technology.
Measuring body composition normally requires sophisticated medical devices and expert technicians in a clinical or research setting. The Made Health app is different. It allows users to measure accurately muscle and fat by taking a single photo of themselves. The resulting data reports a user's percentage of body fat and muscle composition, helping users understand more about their health and progress toward fitness goals.
"It's the simplest, most accurate method to test body composition available," said Dr. Michael Esco, an inventor of the technology and professor of kinesiology. "It's private, convenient and accurate. It's truly backed by research. We created this to help people by giving them accurate information."
Along with Esco, Dr. Michael Fedewa, assistant professor of kinesiology, is also an inventor of the technology. The two worked with students in the lab to gather sophisticated data and run simulations needed to create algorithms that power the technology behind the app.
"We feel like it's completely launched our research into a more exciting direction because we aren't researching someone else's device, we are researching ours and involving students," Fedewa said. "It takes what they learn in the classroom and drives it home through applied learning and research. We are teachers through research."
Despite body fat contributing to chronic diseases like stroke, Type 2 diabetes and some forms of cancer, an alternative measurement — body mass index — is more commonly used in clinical settings because it's a simple measure of weight-to-height. But, BMI often tells an incomplete and inaccurate story of one's body composition and subsequent risks for chronic diseases, the researchers said.
"Weight doesn't tell the whole story," Esco said. "A lot of misconceptions on healthy living are based on ideal weight based on height, but it really comes down to optimal body composition, not just weight. Our device can replace BMI."
The process is simple because users take a single photo of themselves in a standing position, run it through the app and generate accurate body composition measures, including body fat and lean mass. The app will also give the users information about specific body fat distribution patterns that may put some people at higher risk of disease. The only requirement is users must wear tight fitting clothes so the built-in algorithms detect necessary landmarks on the body.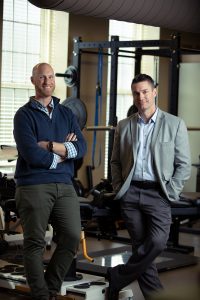 The photos are stored on the user's phone, not in a cloud-based server. The app uses only the numbers from the photo to calculate the body composition measures. Unless a user shares their photo, no one else will see it.
"It is not only simple and accurate, it is extremely private," Esco said.
UA recently licensed the rights to MADE Health and Fitness LLC, a startup company founded by Esco and Fedewa. The first investment made by the Office for Research and Economic Development through the IP Gap Fund was supporting the development of this app.
"Our strategic plan calls for us to help our inventors take ideas from the University into the market," said Dr. Russell J. Mumper, vice president for research and economic development. "The IP Gap Fund was especially created to enhance the value of IP and increase the likelihood for the technology to either be licensed or form the basis of a promising and viable startup company. We congratulate the faculty inventors for their creativity, drive and initial success in getting this creative product to the marketplace."
The primary market will be people interested in using this information along with traditional diet and fitness trackers to follow their health goals. It could also be used by coaches at gyms, fitness centers or sports teams to help their clients and athletes know what is working and what might need to change in an individual's wellness routine.
"We can track changes in muscle and fat even when the scale doesn't change," Esco said. "It doesn't matter what program someone is using, they can use this app to make sure that program is working while helping monitor changes in overall fitness. It's a perfect complement."
Esco and Fedewa partnered with The Edge, a business incubator and startup assistance organization with the Alabama Entrepreneurial Institute, to take a course on starting a business. Also, a class of students working on a master's of business administration did market research for the project as part of their class.
"It's been a collaboration between us and the University to get this to the market," Fedewa said. "Everyone has been incredibly helpful."
The app, Made Health, is available on the Google Play Store and the Apple App Store.
Read more press releases for the MADE Fitness app on The University of Alabama's website.