Add even more Birmingham flair to your iMessages!

The Magic City Stickers pack showcases amazing companies and landmarks right here in Birmingham. Since its release in December 2016, we've added 10 more custom stickers. All local businesses featured have made contributions and 100% of the proceeds are donated equally to Red Mountain Park, Railroad Park and Ruffner Mountain. Download your Magic City Stickers pack in the iMessage App Store. It's FREE for all users! See our instructions below on how to quickly install the pack on your iOS device.
---
Install Magic City Stickers

1. Navigate to iMessage App Store
Start a new iMessage conversation

. Tap on the iMessage App Store icon

to the left of the text input field. NOTE: If you don't see the 3 icons in the image, you may need to tap on the right chevron icon

to expand these options. Once the iMessage app pane appears, tap on the iMessage App selection icon

in the bottom left. It looks like a 2 x 2 grid. Tap on the Store icon

on the next screen.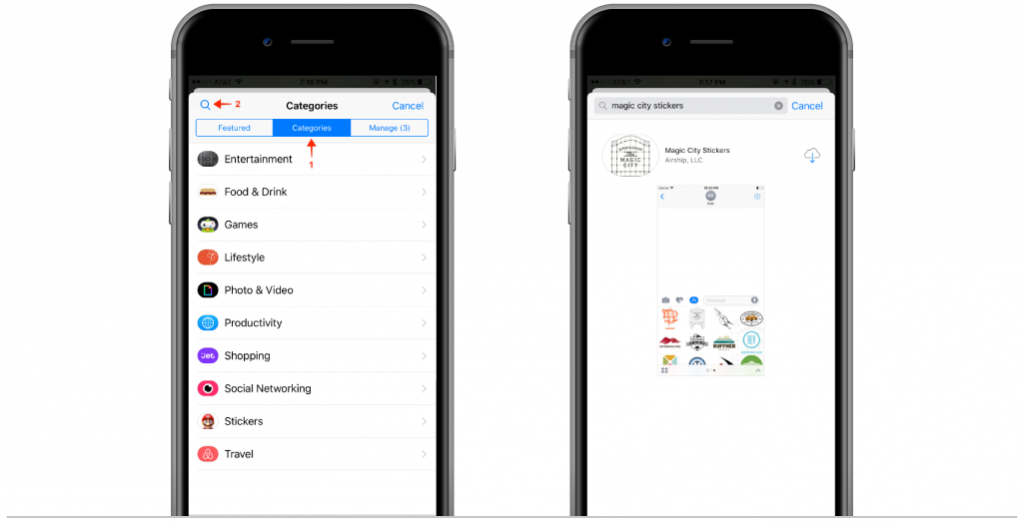 2. Download the Magic City Stickers App
Once in the store, select the Categories item in the segmented control at the top. The tap the magnifying glass icon in the top left corner. Enter "magic city stickers" in the search field and then tap the Search button on your keyboard. This should return the Magic City Sticker application and allow you to install it by selecting the icon

. Once download is complete, select Done to return to your new iMessage.
3. Use your Magic City Stickers!
Now that the sticker pack is installed, you can repeat steps 1 and 2, but instead of tapping on the Store icon, you will select the new Magic City Stickers icon in the app selection pane. NOTE: The app may have been placed on another pane within you app selection pane. Be sure to swipe left until you see it. If you want to add a sticker, touch and hold a sticker, then drag it to the message bubble. The sticker will automatically send once they're added to the message. If you want to use an app in your message, open it or tap the content you want to add to your message. Then tap

to send.

See below for a step-by-step gif of installing the Magic City Stickers!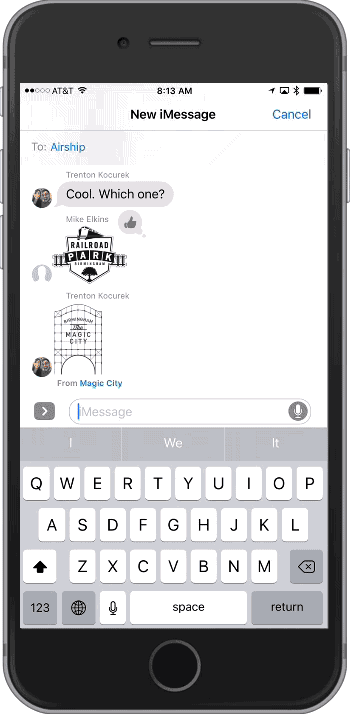 And don't forget your flair the next time you iMessage! NOTE: Check your local policies for flair minimums. Airship does not enforce or endorse these policies.