Since the day we first began developing custom software, Airship has come a long way — and we owe it all to our clients, crew members, and biggest supporters. Thank you for letting us serve you over the past 7 years!
2019 was a landmark year for Airship -- for that, we are very lucky and thankful. What better day than our 7th anniversary to share our annual Chronicle, our look back at the previous year's wins and highlights!
The story wouldn't be complete without you, so please enjoy! (View as a slideshow? Click here!)
Seven may be a lucky number for some, but for startups, it signifies the point at which the success rate drops to 42%. For us, 2019 was an incredible year of growth and learning topped off with an honor: Our third Fastest Growing Company title from the Birmingham Business Journal!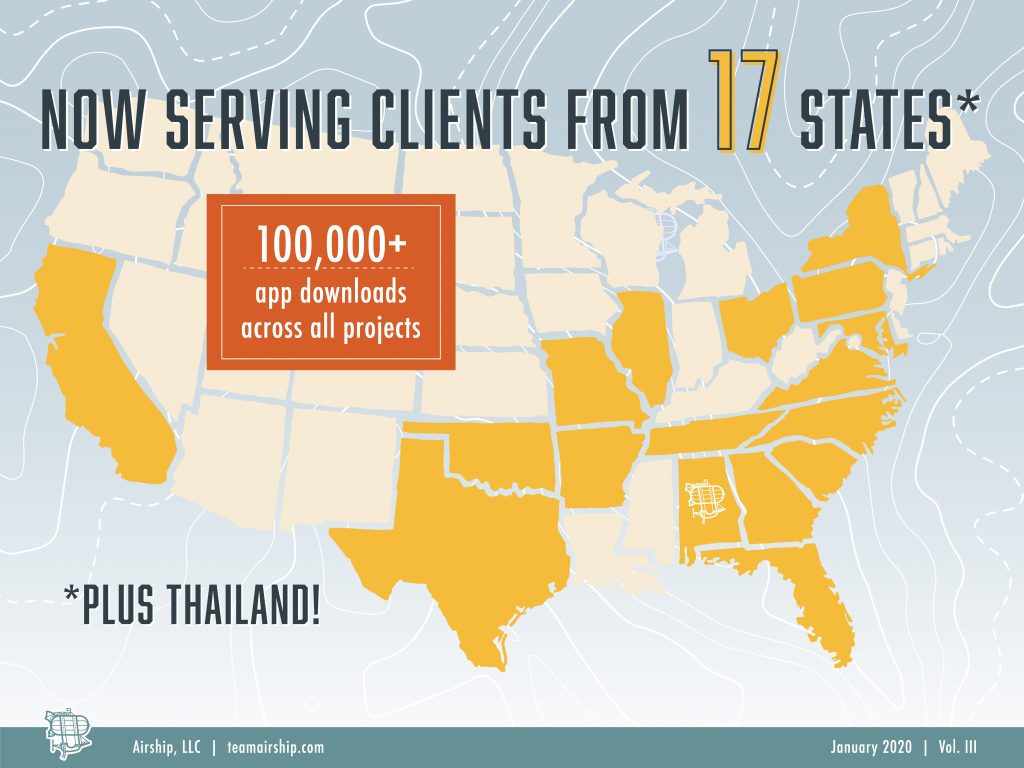 We've now eclipsed the 100,000+ download mark across all mobile app projects!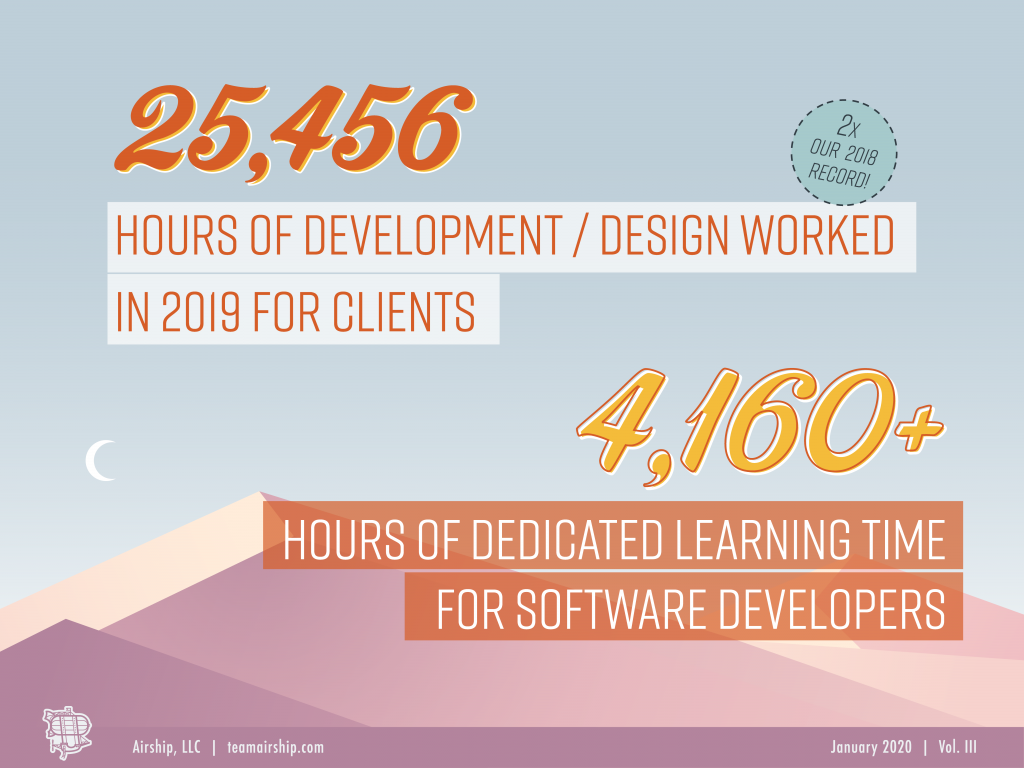 Not only did we more than double our software design and development hours, we significantly increased our number of intentional learning hours. Dedicated learning time accounts for 10% of our builders' 40-hour week.
P.S.: We're hiring! Check out our job board on Lever to view and apply.
We invest in our builders (our term for software developers) so they can learn, grow, and challenge themselves and provide value to our clients who are trusting our expertise. It's crucial that we're always sharp for our clients because they turn to us to be their technology partner.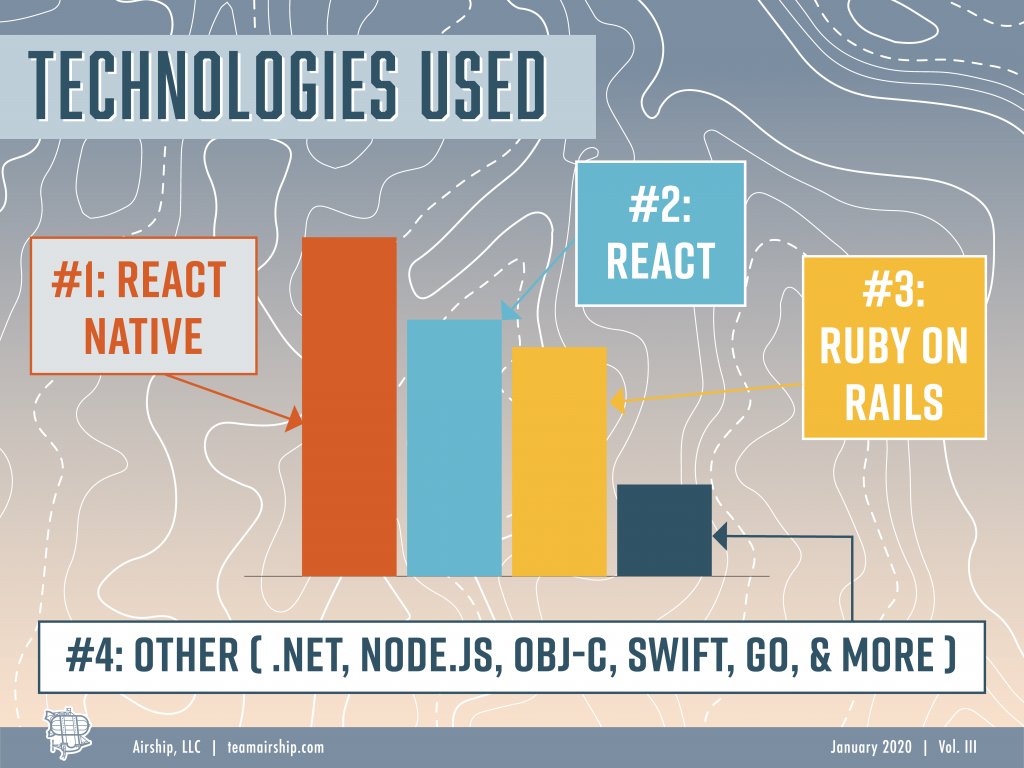 We're continuing to see more and more applications that are a perfect match for the React Native framework (about 37% of our builds in 2019). Other application development frameworks we specialize in include the following:
React Native
React
Ruby on Rails
.NET
Objective-C
Swift
Node.js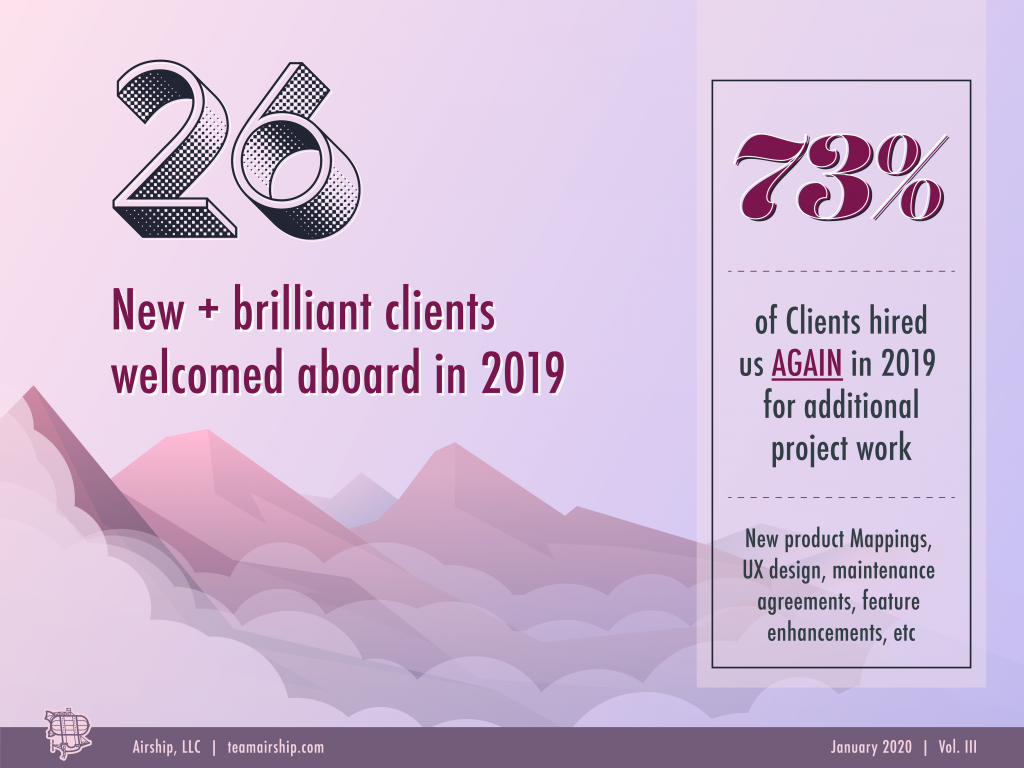 Perhaps the best form of flattery we could ever hope to receive is repeat business from our clients. Our goal is to be a technology parter for our clients that they can rely on to care for the legacy of their application or software product. We're thrilled that 73% of our clients chose to do business with us again on a new project in 2019.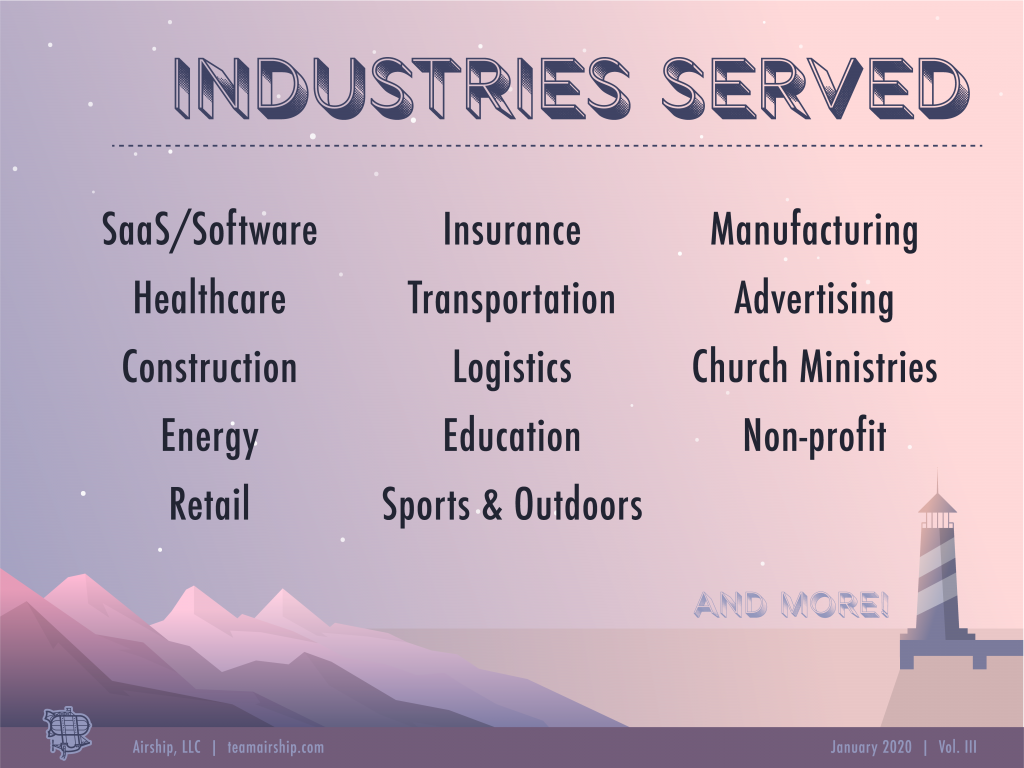 One of the best things about working at Airship is the variety of projects we get to work on. One day you could be building an app for Browning Trail Cameras for their avid hunters, the next day you could be building software that integrates with yachts, and the next helping students from underserved communities gain access scholarship funds.
We love our growing family!! We have 28 total crew members aboard the Airship, but we're never alone - when we added 14 crew members this year, we also added 35 new family members!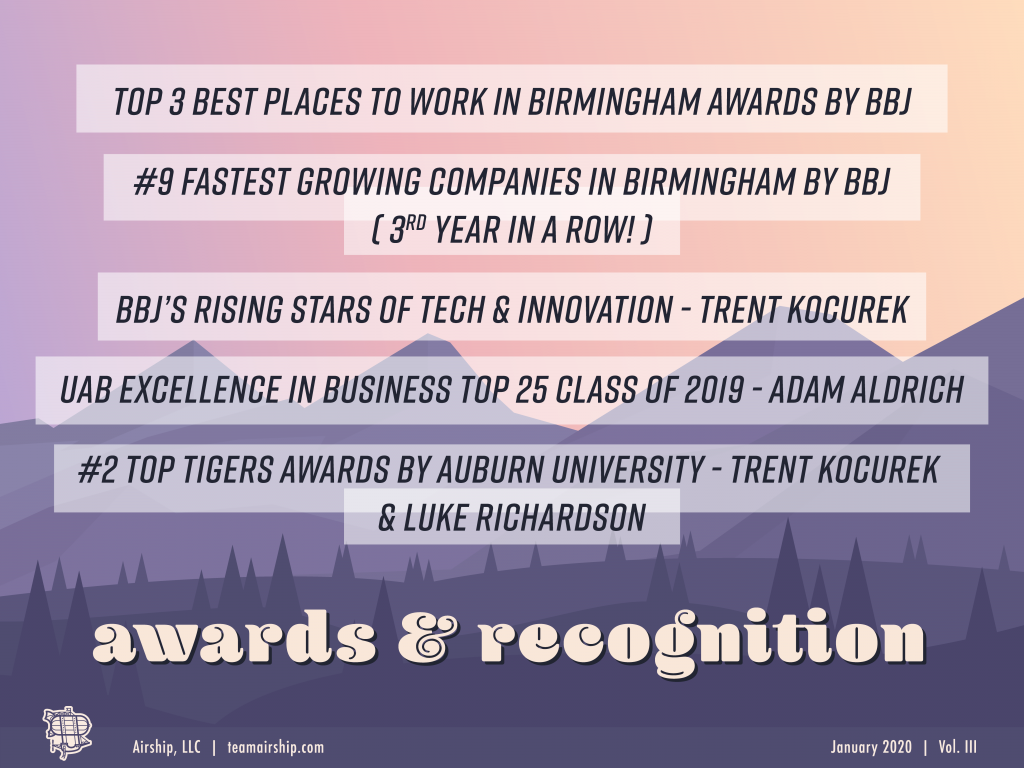 We were honored to be recognized again in 2019 for Best Places to Work, Fastest Growing Companies, AND alumni awards at both Auburn University and UAB.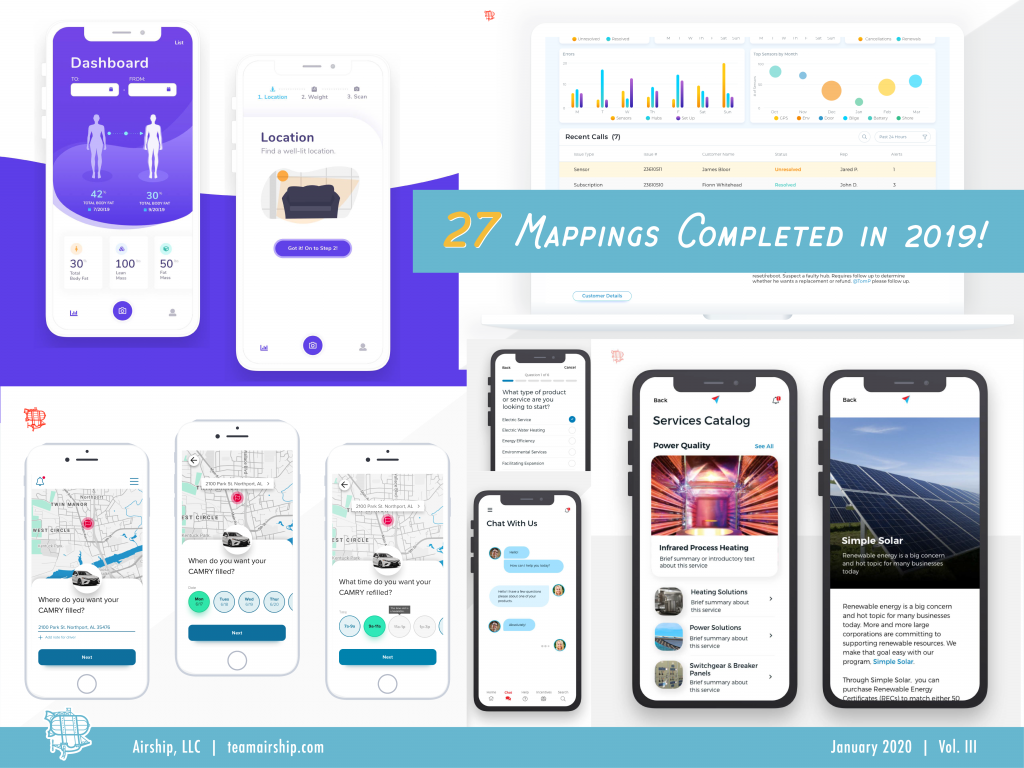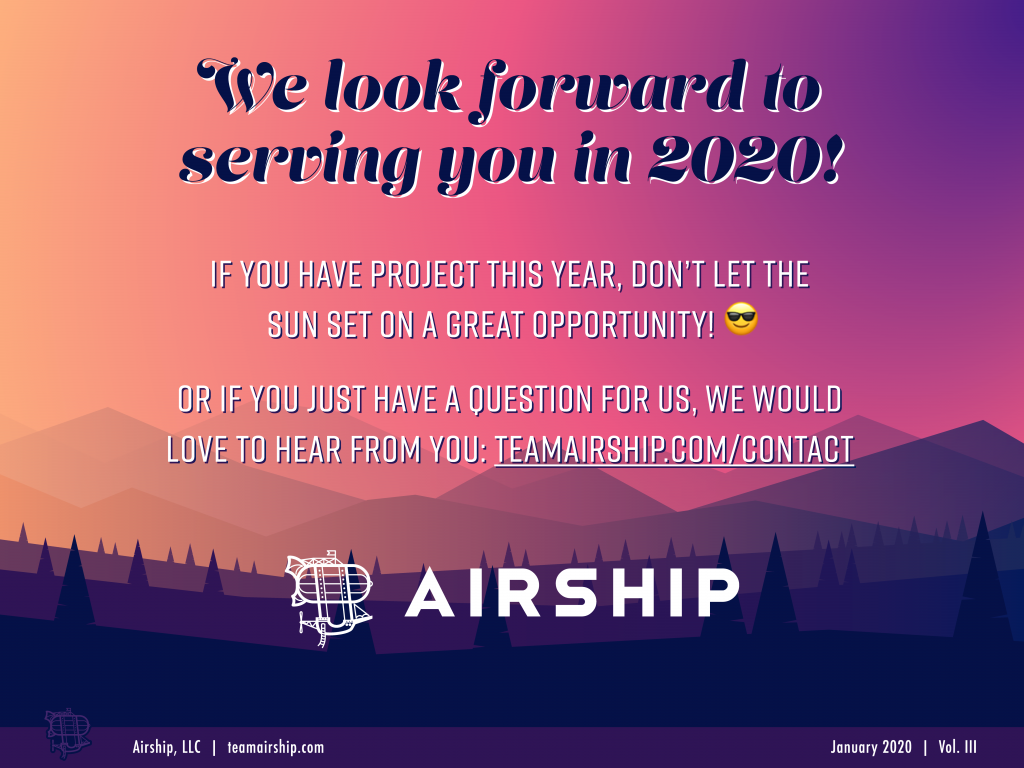 Thank you again for helping us have another wonderful year and an unbelievable decade. We look forward to serving you in 2020!
If you're interested in discussing how we can help your crew get things done in 2020, contact us and you'll receive a link to book some time on our calendars.
If you want to see our previous Chronicles (and we're flattered that you do!), check out the 2018 Chronicle here and our inaugural 2017 Chronicle here.