This case study on the real-world application of user feedback for product improvements was cowritten by our talented crew members Kelli Lucas and Danielle Morgan!
Imagine you have a great idea for a new product. You put hours, months, or even years into your idea; you research the market to see if demand is there; you spent time and money building your new product. It's ready to go live and to be put into the hands of the users who need it most. Now what?
Getting your product into the hands of users is only the first step. This first product is likely your MVP (minimum viable product: a version of a product with just enough features to satisfy early customers and provide feedback for future product development.) But where do you go from there? How do you know if you solved the right problem? How do you know if you solved it in the right way? Did you deliver the best solution to solve that problem?
The single best resource to figure out where you hit the mark and where you may have missed opportunities comes from exposure. Exposure to real, actual, users. The more exposure you have to the people using your product, the better understanding you have of their needs and problems.
This exposure can come in a variety of forms: you can read their feedback in your app store reviews; you can send out a survey to ask what they think; you can set up time to observe firsthand how they use your product; you can include a feature in your product where users can send you their ideas and feedback directly.
Regardless of the method selected, the more time you spend with the people using your product, the more informed you will be when making decisions for your product. Happy users interact more with your product and then in return sell (or recommend) your product to others. Raise your hand if you want happy users ?‍♀️.
At Airship, we work with you/companies to define, create and maintain their products. We spend a lot of time Mapping (the blueprint for an MVP) out our client's ideas and bringing them to life through a Journey (building out that MVP), and the next step in that flywheel is where our focus has been lately: Voyages. You have a functioning application or product, but are you ready to continuously support and enhance it?? A lot of our clients don't have dedicated product teams yet, which is where our expertise comes in.
We love helping our clients identify missed opportunities and hidden expectations since this is where real product growth comes from. We spent some time recently with one of our longest-running passengers, Grow (Church of the Highlands), doing just that.
Evaluating Feedback and Discovering 4 Opportunities: GROW
Grow Online is a digital platform to help better equip pastors to break the 1,000 member mark at their church. Grow Online offers hundreds of downloadable church resources and trainings on every department of church life including Kids Ministry, Worship and Production, Small Groups, Finances, Student Ministry, Administration, and much more.
The best part? It's free! Every resource can be accessed 24/7, 365 days a year. They partner these resources with live online trainings to give an immersive experience to each one of their members.
As one of our first passengers at Airship, Grow Online has been through the full flywheel of our Airship services. Over the years we have enjoyed partnering alongside Grow to build and maintain their applications. When Grow approached our team about revamping their vision and processes, we knew they would be a great candidate for a Mapping. After several weeks of brainstorming and fine-tuning our scope, designs and vision, we embarked on the journey to build it.
As of January 2020, Grow is officially live with approximately 43,000 active users on the site and are adding more daily. After launch, we immediately started evaluating customer feedback with their Voyage. Here's what we learned.
Opportunity 1: The Sign-up Process
The sign-up process was one of the areas in the system that users most frequently voiced their frustrations. In order for a new leader to join an existing church when signing up for Grow, someone within the church has to approve their request before the leader can begin using the system.
Previously, only leaders (ex: senior pastor) could approve them, but not all churches have someone in those roles using Grow. This was resulting in several customer service calls and emails to the Grow team each week. Since the roles and requirements have changed between the conversion of the old system to the new system - this was an interesting challenge to face.
Recommendation:
To improve this workflow, anyone within a church can now approve a new member request.
We moved the approval process to an area within the app that is more frequented and apparent to make accessing the system quicker and easier.
Added some verbiage to the welcome page to help new users know who to contact within their church to get approved.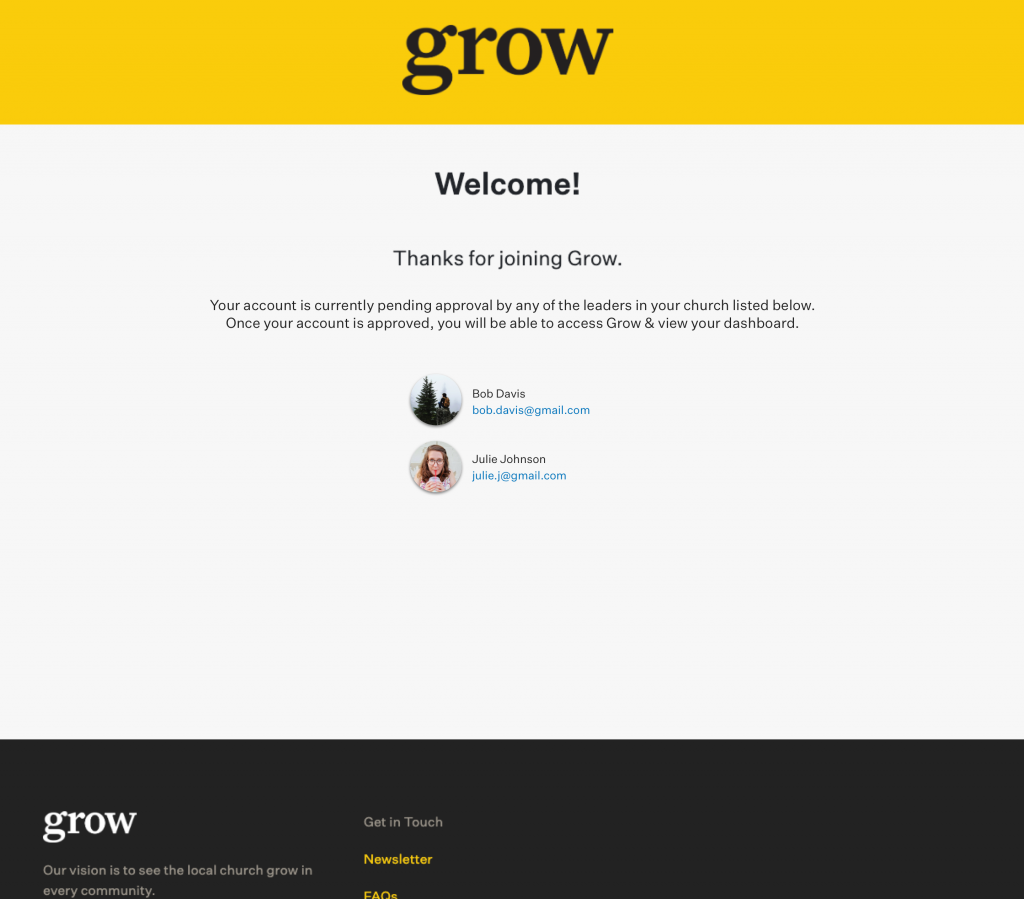 Opportunity 2: Store User Responses
As a user signs up, we collect a couple of answers about them which are not currently stored anywhere for the Grow Online team to analyze.

Recommendation:

Build an area on the Grow Online Admin section of the site to house all responses from Grow signups. This area will allow Grow Admins to learn more about their members upon signup and better understand their needs in the system.
Opportunity 3: Add More Answer Options
Through reports of some customer service calls to Grow, it was determined that the options under some onboarding questions were not all-encompassing of their user base.
Recommendation:
Add a N/A or none option to questions.
Make question 2 optional.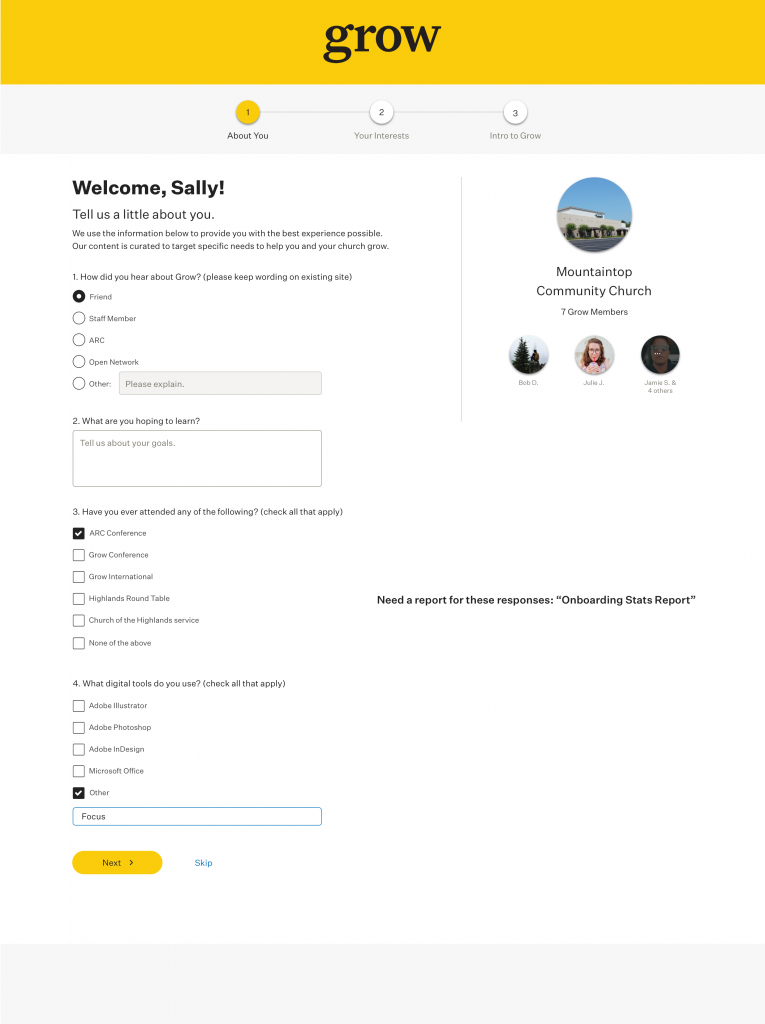 Opportunity 4: Consider Slow or Poor Internet Connections
Grow Online has members throughout 6 continents. This has presented us with an interesting challenge. Due to poor internet connections in certain parts of the world, some users were struggling to view the videos on the site.
Recommendation:
Move all videos over to the Vimeo Platform. This will allow users to change their video resolution and also offer the Grow Online team several great benefits for analysis.
What do all of these recommendations mean?
We listened to their customers — crazy, right?! You never know how your product will be received by others until you put it out there for some feedback, and thats exactly what we did. With these changes, Grow Online users will be able to signup more effectively, and the Grow team will not be forced to field customer service calls anymore about theses issues. The question now is, what do we improve next?
Further Reading: Feedback Loop
Importance of the Feedback Loop: Fantastic suggestions for how to successfully implement a feedback loop when you launch a product
Main blog photo by You X Ventures on Unsplash. Awesome Grow screenshots courtesy of the amazing people at Grow.